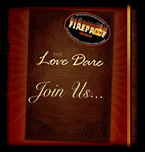 This Is a Challange I am Doing At a Christian Womens Blogger Site that i am a Member of
Its a 40 Day Challenge that I think will Be Life Changing! I am Looking forward To it, But I am Kinda Leery Because I am Thinking of Doing with With an Accountablity Partner, Which is a little Scary to me. I dont know why Because Transparency is what i WANT!! Anyway! I will be Blogging my Journey on here! Join ME if you like at :
The Love Dare - Christian Women Take Root!